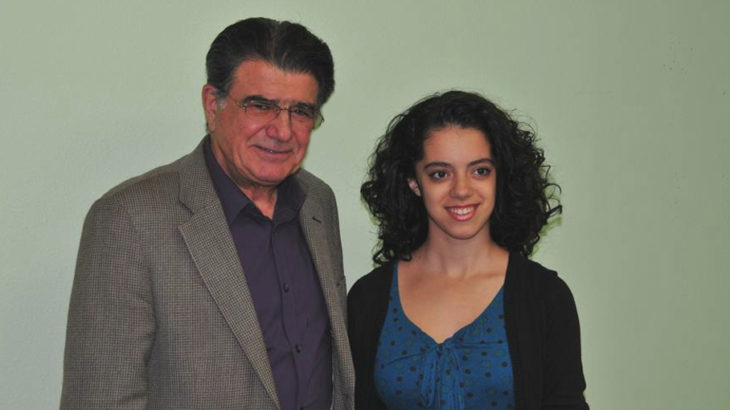 Musical Icon's 'words of wisdom' for 2014 YoungArts Winner!
By Shayda Zaerpoor Le
On May 3rd, 2014, Andisheh Center had the distinct pleasure of hosting a truly incredible event. Maestro Mohammad Reza Shajarian, an internationally acclaimed Persian classical singer, was an honored guest at an exclusive musical workshop. Andisheh Center and ArtMax Academy had the honor of hosting an exclusive and intimate opportunity for the serious pursuers of classical Iranian music to receive guidance, comments, and feedback regarding their mastery level, and to learn techniques and artistic lessons of a lifetime.
Maestro Shajarian is nothing short of a musical icon. His songs and poems have for decades been associated with both personal and public expressions of identity. Born in 1940, he began singing at the age of five, and by twelve he was studying the traditional classical repertoire of Iranian music. He has been showered with a myriad of accolades, including: NPR's 50 Great Voices, nominated for two Grammy Awards in Best World Music, UNESCO's Mozart Medal and Golden Picasso Medal, and Iran's best classical vocalist in 2000.
Denná F. Good-Mojab is nothing short of a rising star. At the age of 12 she was dual-enrolled in high school and college, and at the age of 17 she is graduating from the University of Washington with a Bachelor's Degree in Vocal Performance. In the fall, she will begin a masters program. She began voice lessons at the age of 8, made her opera debut at the age of 10, and is a 2014 YoungArts Winner.
Andisheh Center had the opportunity to sit down and chat with her about her incredible journey. Denná was born into a family that appreciated music. Around the house, music was always there. Her first lullabies, sung to her by her mother, were Iranian Folk Songs. When I asked her how her cultural heritage has impacted her artistry, she said that her cultural heritage is her social presence, something that is important to her to maintain.
At the age of 10, in conjunction with her opera debut, she decided that opera was her love. I mention how lucky she is to have found her passion at such a young age. Her wise response: "It's not that my path has been easy." In 2006, she began performing, and volunteering, at the annual Portland Iranian Festival. Her description of her experience with Andisheh Center as part of the festival was wonderful to hear. She says she has appreciated the kindness that is prevalent everywhere. She was welcomed and included, and that lasting impression has made her want to remain a part of that community.
Andisheh Center was thrilled that she could be part of the workshop. In Denná's own words, "it was such an exciting opportunity to be with an absolute master of his art, Ostad Shajarian." She described the setup as having an open vibe, with such an atmosphere of respect and appreciation amongst the participants. "A beautiful place to be in terms of mentality, yet still down to earth and pleasant to be around." Maestro Shajarian talked about and shared his experiences with the group. The musicians were then given the opportunity to present their art. Maestro Shajarian didn't just give them a lesson. He gave them general words of wisdom. He emphasized the importance of singing with your own voice. For Denná, it was a further affirmation of the path she had chosen.
In an exclusive and very personal interview with Maestro Shajarian in 2010, when asked about his recognitions, he remarked that voice and technique are trademarks of the vocalist, but it is his creativity – that his own voice has become the voice of the people – that makes him award-winning. He has beautifully and poignantly stated, "I do art for the sake of humanity. For the sake of the people in whose midst I live … I came to remove silence from their hearts, and give voice to them."
On the most emotional level, Denná says that music helps her. Whether she's stressed or she's happy, she tends to play piano. She's always listening to music. Opera is her favorite, her study and her focus, but she loves Iranian music. It's not a major part of her professional plan, but it's definitely part of her life. She tells me, live your life doing something you love. She does add, lovingly, "listen to your parents, though." For Denná, she has picked a path in which she can combine her interests and her passion with her education. She says that if you love something, and you feel it's a part of you, do your best with it. Continue it. I, for one, think that Ostad Shajarian would agree.
---